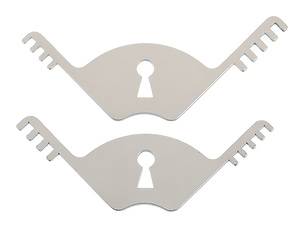 Comb kit (2p)
€1695

€16.95

€2034

€20.34
---
Combing is one of the easiest techniques to bypass padlocks. Push in, push down, turn and open. Thin and strong, to squeeze into even the tightest keyways.
Introduction
Combing is one of the easiest techniques to bypass padlocks. Push in, push down, turn and open. Almost as quick as the original key!
Combs exploit manufacturing tolerances inherent in padlocks to force the alignment of all pins over the shear line, bypassing the need for a key.
The Sparrows Comb Kit is built for 4 and 5 pin padlocks, and has been optimised to work on a vast range of padlocks, including ABUS 55/50, MASTER 140/150, etc.
These are not generic combs: they have been optimised for strength while keeping a thin profile and compatibility to reduce the number of tools you need to carry.
In a nutshell

Below is an overview of the Sparrows Comb Set:

Must-have Padlock Kit

Never get caught-short without combs again - slips into a wallet.

Laser-cut Quality

Laser cut spring-steel: won't be rusted or bent when you need it.

Optimised by Experience

Tooth distance and shape are optimised for maximum compatibility.

Pack Contents
Each Comb Pack contains:

2x Stainless Steel Combs (4 tips in total)

Technical Information

Dimensions: 65 x 22 x 0.8 mm

SHIPPING & PACKAGING
Do you provide free shipping?
Yes:
For European Customers, orders over 100€ have free shipping.
For International Customers, orders over 250€ have free shipping.
Customers that qualify for free shipping can still select rapid shipping options.
When will I receive my order?
Average order times can be estimated below.
Average shipping estimates can be seen by selecting the destination country / region below.
While actual shipping times may vary - these estimations are built off our real delivery statistics. To receive an order as quickly as possible, we recommend:
Use the express delivery shipping method
Use same day shipment by placing the order before 12PM GMT+1
Where do you ship from?
All items are dispatched from our EU-based warehouse. You will receive a tracking number upon item dispatch. The address used on your purchase is printed as a label - please double check your address to avoid mistakes.
When will my order be dispatched?
Lab401 dispatches orders Monday - Friday.
All orders placed before 12PM GMT+1 will be dispatched the same day. All orders placed after this cutoff time will be dispatched the next business day.
For example:
An order placed Friday, 9AM GMT+1 will be dispatched the same day.
An order placed on Friday, 6PM GMT+1 will be dispatched Monday.
An order placed on Saturday will be dispatched Monday
For any questions, please contact customer support.
What shipping options are available?
We provide four types of shipping:
EU Standard Post
EU Express Post
International Standard Post
International Express Post
How are import duties / customs handled?
For all European Union destinations, all shipments are DDP - Delivered Duty Paid. This means all applicable VAT/TVA, shipping costs and customs fees are pre-paid.
You will not be charged by the courier service / post office or customs.
For all destinations outside European Union, all shipments are DDU - Delivered Duty Unpaid. This means that your country's custom service impose a VAT/TVA/Import Duty on your shipment.
I am charged VAT ?
Lab401 (ETOILE 401 SAS) is an EU-Registered entity. VAT is applicable to purchases delivered within the EU, with exceptions for VAT Registered entities. VAT is calculated at checkout. For your convenience, you can browse Lab401 with prices Including VAT and Excluding VAT.
Sales are contractual
Please note - a purchase is an explicit agreement of our terms and conditions. Any products refused by clients will not be refunded.
Purchase Security Validation may be applied
To protect against credit card fraud, orders may be flagged for Purchase Security Validation. In this instance, we will reach out to the customer to perform a manual verification process.
Orders that are flagged for Purchase Security Validation are considered to be incomplete until validated. Our delivery deadline obligations begin only when an order is validated.
Delivery Protection
Is my delivery protected?
All Lab401 shipments are insured with the carrier.
We also provide an
advanced insurance, Lab401 Delivery Protection.
Lab401 Delivery Protection
means we remain fully responsible for the package right up to delivery. If the package is
lost or damaged
, the package can be
resent immediately
(48 business hours) upon receipt of proof.
For orders
without Delivery Protection
, lost or damaged packages will pass through the carrier's protocols, which can take
up to 30 days.
For orders that are time-sensitive, we recommend Lab401 Delivery Protection.
Delivery Protection can be purchased at checkout easily and cheaply.